Like most of West Tennessee, Jackson developed primarily as a result of its cotton production; however, its railroad connections from New Orleans to the Midwest ensured Jackson's prominence as a transportation hub. Many of the deceased in Hollywood Cemetery contributed substantially to the town's economy. According to one Madison County historian, "The railroads have been the life line of the community; they have meant the growth of the community."
With 3000 miles of track, Isaac B. Tigrett, who died in 1954 and is buried in Section X, Lot 21, served as president of the Gulf, Mobile, & Northern from 1920 to 1954. He consolidated several small branch rail lines into the Gulf, Mobile & Ohio in 1940, increasing Jackson's value as a transportation hub connecting the mid-South to more distant points in the Midwest and North. Local rail lines spurred the growth of residential areas known as "street car suburbs" outside the original city limits.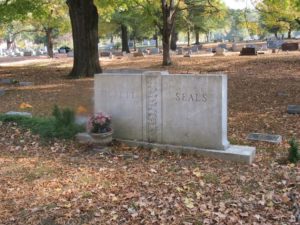 Banker John L. Wisdom who died in 1926 and is buried in Section H, Lot 63, joined partners in organizing Jackson and Suburban Street Railway Company in 1887. This railroad carried the new cadre of commuter workers between their suburban homes and downtown places of employment. The company also supplied electricity to residents in its service area. As vice president of the Second National Bank 1908-19, Wisdom represents the cadre of 'ordinary' businessmen buried at Hollywood.